Pip Martin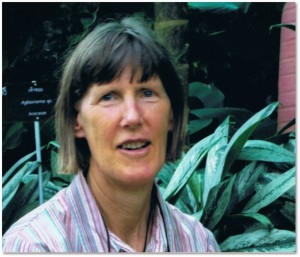 Pip Martin was one of the first New Zealanders to train in SCENAR Therapy under International Trainer Chris Mortensen. She did further training in the United States of America under Dr Jerry Tennant, who has received numerous international awards for his services to the advancement of medicine http://tennantinstitute.com/. From Dr Tennant, Pip also learned to use the Meridian Energy Analysis Device (MEAD) which provides quick and useful computer analysis of energy (voltage) in the twelve meridians. Pip undertook further Scenar training in Bulgaria with leading Russian and Bulgarian practitioners, including Dr Irina Kossovskia.
Pip has completed professional programmes in Homeobotanicals, Active Elements, muscle testing, Body Talk and Traditional Chinese Medicine applied to Body Talk. She has an honours pass for Anatomy and Physiology for Holistic Body Workers. Pip worked with SCENAR as one of Belmont Park Retreat practitioners from 2004.
Pip has an extensive vegetable garden as well as assisting with MannaMilk as required! Kohutu Farm has been in the Martin Family for 100 years.
Pip received the Queens Service Medal (QSM) in recognition of her significant contribution to New Zealand government policy on workplace toxicity which culminated in the Ministerial Inquiry into Certain Hazardous Substances in the Workplace. She is also a life member of the Plunket Society for her services to child health. Since 2007 Pip has been the New Zealand representative on the Scenar Therapists' Association of Australia (STAA).
Pip is keen to see SCENAR in less privileged parts of the world because it is ideal for use in emergency and trauma as well as chronic conditions. She travelled to India with Medical Herbalist Alicia Melrose, Osteopath Ian Melrose, and Homeopath Angela Hair, to help set up Scenar Therapy in the Health Clinic and villages of the Makaibari Organic Tea Estate in Northern India.
Find Us
From the North: 12 minutes from Levin. Come through Ohau, then look for Tatum Park Conference Centre on your right. Stay on SH1 over the two bridges (over the Waikawa River and the railway line) then turn left into North Manakau Rd. Drive 3 minutes and turn left into Martins Rd – No 48 is the last on the right, up the main drive.
From the South: 10 minutes from Otaki. On SH1, continue past Manakau Village, past Waikawa Beach Rd, then turn right off SH1 into North Manakau Rd. Drive 3 minutes and turn left into Martins Rd – 48 is the last on the right, up the main drive.
Note the entrance to Kohutu Health is on the north side of the house – take the left fork in
the drive and park on the north side of the house.
Click Here to see our contact details